As a thought leader and expert in sustainability, Coro shares her ideas on advancing corporate social innovation through speaking engagements, presentations and webinars on a wide range of topics.
She posts her events and video, audio and webinar presentations on trends and best practices in corporate sustainability and responsibility so others can accelerate their social leadership. She speaks with knowledge, experience and passion on a host of subjects. Is Coro the right speaker or facilitator for you?
PAQS2017
July 24-26 2017, Vancouver BC
Coro will be speaking on the topic of: Corporate Social Responsibility in the Construction Industry: A Bold New Mandate. The presentation will provide the latest information on why and how the construction industry can and must lead the way in corporate social and environmental responsibility (CSR). I will answer the question: how can the construction industry transform, decouple its negative impacts and become a greater force for good in society?
Circular Economy Business Model Innovation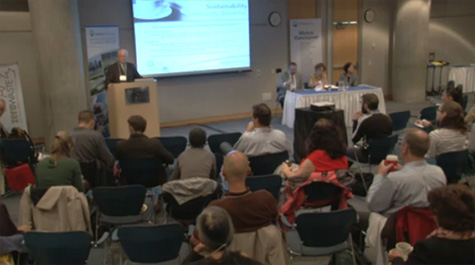 ---
Coro provides a 20 minute overview of her research into circular economy business model innovation which she conducted for the National Zero Waste Council. She profiles 8 case study companies which are successfully becoming circular enterprises and shows how. Check out these times: 18:00 – 38:00 or watch the whole show.
Introduction to the Transformational Company Qualities
---
Watch this 30 minute "Introduction to the Qualities of a Transformational Company" to learn what they are, why and how they were developed, why they are important and how you can use them in your corporate sustainability and social responsibility practice.
---
In these two podcasts Coro discusses trends in corporate social value creation, transformational companies, and why it's in a company's interest to help resolve some seemingly intractable social, economic and environmental challenges.